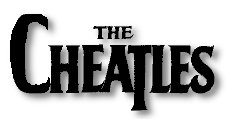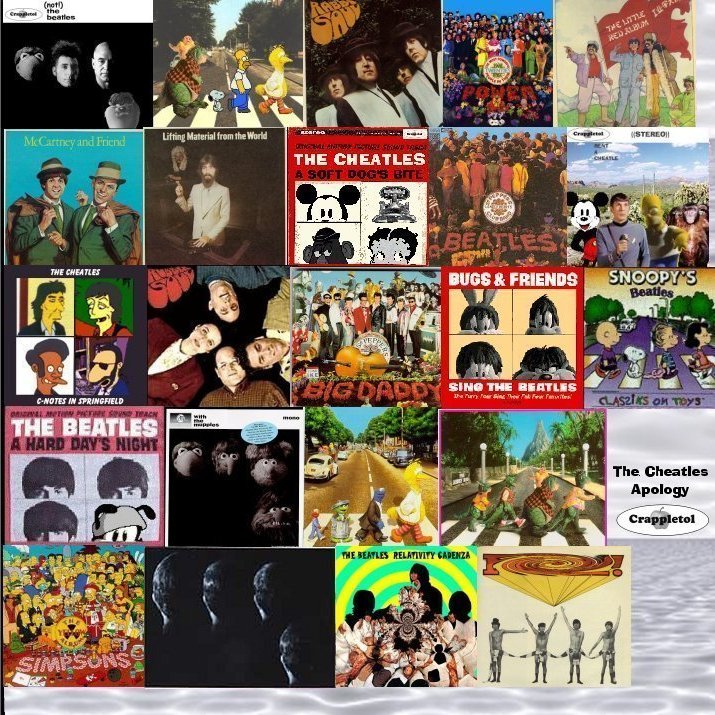 Click For Larger Image
---
1. Colliding Circles Mix 2 VIDEO TRACK (Mr. Kite/Mike Martello)


2. Pink Litmus Paper Shirt (Unknown...Kind Of)


3. Peace Of Mind (Unknown)


4. Colliding Circles (Mr. Kite)


5. Anything (Starkey/Glass Onion)


6. Have Your Heard The Word? (The Futz)
7. I Am The Walrus - Live (Lennon/McCartney)
8. The Beatles Rap (The Quarrymen)
9. Yellow Submarine (Lennon/McCartney - Performed By jpgr56)


10. Sgt. Pepper's Lonely Hearts Club Band (Lennon/McCartney)
11. The Void (Lennon/McCartney - Mixed By Glass Onion)
12. While My Guitar Gently Weeps (Lennon/McCartney - Performed By jpgr56)
13. Lullaby For A Lazy Day (Alexander)
14. "Strawberry Fields Forever"( Eyes Closed mix) (Lennon/McCartney/Glass Onion)
15. SNL Beatles Melody (The Beatles - Performed By Father Guido Sarducci)
16. A Day In The Life...Of A Mosquito (Lennon/McCartney - Performed By Mosquitos On Crack)
17. Nowhere Man (Lennon/McCarney-Performed by Henry The Horse)


18. Frenzy And Distortion (Ravi Shankar)
19. Good Morning, Good Morning - Live (Lennon/McCartney)
20. Chains (Lennon/McCartney - Performed By NT & Henry The Horse)


21. Unforgettable As A Bird (Lennon/Cole)
---
PLEASE NOTE! The Cheatles was at one time a fan created web site that featured FAKE Beatles songs collected or created by fans. This site was taken offline when copyrights were questioned. This site is no longer up and running. Tracks included to sample here are original or unclaimed songs.
After the long delay in the much anticipated Cheatles CD-ROM, Crappletol records has released The Cheatles - APOLOGY. APOLOGY is a mixture of the many different styles Cheatle fans have come to love. Not only does this CD contain many favorites found on the Cheatles WEB Site, but also has the debut of the first Cheatles music Video. The first track on this CD - Colliding Circles Mix 2 - will actually not play on your CD player, but instead will only play on your PC! The rest of the CD will of course play on any conventional CD player. The packaging also contains a booklet with information and graphics from The Official WEB Site. This CD has not been released for sale, but instead has been placed in the hands of Internet collectors to pass amongst themselves. Because of this it has become a very rare gem sought after by every Cheatle fan on the internet.

One of the talented performers on this CD, Mr. Kite had this to say about Apology:

"First off, you have The Cheatles [APOLOGY}, a wonderfully designed package with a kick-ass music video (I couldn't stop laughing when Kermit the Frog morphed into Kramer!!!) and an amazing track listing. It has a few of my tracks (Colliding Circles, of course and Good Morning Good Morning live) and many Outfake staples (Peace of Mind, Have You Heard the Word, Frenzy and Distortion) as well as some awesome fan-created stuff (Anything, I Am the Walrus Live, the hilarious Apu-singing of "Sgt. Pepper", some great cover from jpgr56 and brilliant remixes by Glass Onion, oh and Henry the Horse's awesome punk take on "Nowhere Man"). Aw, man, it's just soooooooo cool. And funny as hell in most parts! This is the kind of album that lets - nay, forces - Beatleg fans to have fun, and it's just soooo fun. Great job everyone! Long live The Cheatles!!!"
---
01. Colliding Circles
(George Harrison/Adam Bruneau)

Song Recorded By:
Mike Martello- Overdubbed Electric Lead
Adam Bruneau- Everything Else

The Second Mix, with Guitar overdub
02. Pink Litmus Paper Shirt
(Barrett/Unknown)

The long lost Beatle song is now available! Rumored recorded and tossed away by the Fab Four. Lost to collectors for years, this 37 second piece was finally discovered by a fan on a reel-2-reel.
Actually:
The music is a very short edit of "Swan Lee" a Syd Barrett (formerly of Pink Floyd) outtake that was later given vocals and mixed different (the sax at the end was removed) and titled "Silas Lang" on the late 80's release Opel.
The vocals were added by some mischievous people who tried to make it sound like a lost Beatles track
03. Peace Of Mind
(Unknown)

The story behind this song is it was found in the trash behind Abbey Road Studios in 1970. It has since been released many times on Bootlegs as an unreleased Beatles take.
04. Colliding Circles
Mr. Kite

Colliding Circles was taped by The Beatles on June 1 at De Lane Lea studios along with various instrumental ramblings. It's yet another "psychedelic" Lennon piece (note the horizontal structure) that revolves around a variation of the Rain bass line. Here are the lyrics:

Colliding Circles
(Mr. Kite, Taped January 18, 1999)

I can only see Colliding Circles (Colliding Circles)
Everything you know creates a sound (Everything is sound)
I can only see Colliding Circles (Colliding Circles)
Cos everything is going round and round (Round and round)

Everything's the same in it's own way (Everything's the same)
Whenever Peace of Mind at last is found (Peace of Mind)
And when you see the light then you will realize (When you see the light)
We are all just circles spinning round (Colliding Circles)
Mr. Kite: "Basically, this is a quick diversion into the mystical realm of Beatles psychedelia by Mr. Kite. All instruments and just about everything you hear (except for the looping tamboura, taken from Within You Without You) are played by me, made by me, etc. Although it is WITHOUT A DOUBT A FAKE (very important line, that!)"
05. Anything
(Glass Onion)
Here's the legendary lost "single edit" of Ringo's "Anything" - the B-Side ,of course, of the withdrawn single "Carnival of Light". Ringo invents Hip Hop !.
06. Have You Heard The Word
(Fut)
During the late 1960's, after The Beatles finished Abbey Road, and effectively ended their recording career, John Lennon joined the Bee Gees and recorded this track. Some people say it featured all four Beatles and the Bee Gees; another theory is it was The Beatles last recording.
Actually:
This track is actually Maurice Gibb of The Bee Gees together with Steve Kipner of Tin Tin (a group discovered by the Bee Gees in the late sixties).
07. I Am The Walrus
(Lennon/McCartney)
Mixed By:
Mike Martello

Live from their last concert in 1970 to promote their album "Let it Be."
08. The Beatles Rap
(The Quarrymen)

Unknown to the general population - The Beatles actually got back together before the ANTHOLOGY project. It was actually a true reunion, as it was just before the death of John Lennon. After being amazed that Rap music was making such a big hit, realizing there was little to no talent behind most of it, and also realizing it was a form of music that they did not inspire in any way shape or form, the Fabs decided to get together and do a rap song to (as John Stated ) "see their names on the top 40 once again). After listening to this finished tape, all four were so embarrassed they asked George Martin to destroy any copy of it. One Reel was "accidentally" dropped behind a file cabinet and never seen again until many years later.... THIS IS IT!
Actually:
Actually I taped this song off the Dr. Demento Show many years ago, and don't have that much more information on it except it's supposed to be released on an album called BEATLES SONGS.
09. Yellow Submarine
(Lennon/McCartney)
Performed by
jpgr56
10. Sgt Pepper's Lonely Hearts Club Band
(Lennon/McCartney)

The Beatles DID unite on stage for the historic Anthology release. The idea was to have a contest, and the lucky winner would be able to sit in for John. The only show that was actually performed happened in the fable city of Springfield. After this, it was realized that it was a bad idea.....hear why!
11. The Void
(Lennon/McCartney)
(Remixed By Glass Onion)
12. While My Guitar Gently Weeps
(Lennon/McCartney)
Performed by
jpgr56
13. Lullaby For A Lazy Day
(Alexander)

A tape of this song was found among Lennon's personal possessions after his death. It's supposedly a finished performance. Lennon's voice is etheral and high-pitched over a slow tempo. Backing vocals consist of wordless falsetto voices.
- Musician (April 1988)
A song erroneously copyrighted by Yoko in 1985
14. "Strawberry Fields Forever" (Eyes Closed mix)
(Lennon/McCartney/Glass Onion)
Mixed By Glass Onion

Were The Beatles so far ahead pf themselves that they had to throw away some of their more lavish songs and make them more "popish?" Did John start making avant-garde music more mellow and eventually evolve to the chaos of Revolution 9? Were the drugs back then really that good? Give this tune a listen and see what you think......

Glass Onion: "I did the track about two years ago using a sampler and Cubase. All the samples were taken from the single version of SFF except the intro (from "Xmas Time"), the drums (from Anth.2 version), the "Strawberry Fields Forever" phrase (from take 1), and the "oh yeah" towards the end (from "Little Child"). There are NO sounds that are not the Beatles - no drum machines or synths were used - it's 100% Beatles. Even the drums are Ringo (albeit chopped up and re-assembled). It wasn't meant to be a dance mix - more a trance mix."
15. SNL Beatles Medley
(Lennon/McCartney/Harrison/Starkey/Sarducci)

Father Guido Sarducci, Trying to wake Paul McCartney for a SNL interview that would promote Paul's new single, Coming Up, serenades the Maccas house through a megaphone. Paul is finally awoken (Our friend the priest forgets about the time difference) and does the interview. This medley covers Beatles songs through the course of their entire career.
16. A Day In The Life...Of A Mosquito
(Lennon/McCartney)
Performed by:
Mosquitoes On Crack
Donated by
AJ Venom

The L.S. Bumble Bee is not the only psychedelic drug-drenched insect out there! Here for the first time anywhere we are proud to introduce Mosquitoes On Crack doing a great tribute to the Fab four.

Actually:
"Hi.. I'm a friend of Henry the Horse...he wanted me to send you this because he said you like to collect Beatles stuff on your Cheatles page......I think it's a great idea.....everyone's heard all the real versions .....pretty cool to see something different or rare....

Well to make a long story short.....a long time ago I was trying to learn how to play the guitar and I was messing around with the first effect I had, a digital delay. So I took a cheap pile of crap sears tape recorder and Beatles tape and recorded some stuff......Not that I was trying to make anything.... it just was something left over from experimenting around. I called this one mosquitoes on crack.....nothing really but a messed up copy of a Day in the Life....of a mosquito.

Thanks for letting me torture ya, "

AJ
17. NOWHERE MAN
(Lennon/McCartney)
Performed By:
Henry The Horse

It is just another boring Beatlesoundalike band coming up to play at Beatlefest '96? NO!!! It's Henry The Horse ripping through "Nowhere Man" faster than the Blue Meanies took over Pepperland!
18. Frenzy And Distortion
(Ravi Shankar)
19. Good Morning Good Morning LIVE
(Lennon/McCartney)
Song Mixed By: Mr. Kite

One upon a time, in 1967, The Beatles (then called Sgt. Pepper's Lonely Hearts Club Band) decided to try and hit the road with their new album, so as to appease Paul and one of his crazy ideas! Although the tour was cancelled after one gig, much of the Sgt. Pepper material was performed, of which this track is from.

Actually:

Mr. Kite: "For this, I used the Sgt. Pepper version, the Anthology version, and some audience and crowd noise. I think in some places it sounds good, but I didn't have the right audience noise I was looking for. In some parts, it sounds a little choppy. Listen to Ringo's new extended drum solo!"
20. Chains
(Lennon/McCartney)
NT ~ lead guitar and background vocal
Henry The Horse ~ background guitar and lead vocal

HTH: "I played the lead guitar, rhythm guitar, bass and conga parts all on the same acoustic guitar with, of course, several overdubs."
21, Unforgettable As A Bird
(Lennon/Cole)

Right before his death in 1980, John Lennon was planing on a calibration with Natalie Cole to combine two of their songs in this unprecedented release.